The Tennessee Volunteers have clinched the SEC East title for the first time since 1997 following a series win in Columbia this weekend. The Vols made a statement to close out the regular season, finishing a perfect 6-0 in road series this year. This series win locked Tennessee into a top 8 national seed, which means the Vols will host throughout the postseason until making the trip to Omaha, provided they win their regional and super regional. Tennessee has cemented themselves as the #2 seed in the SEC behind #1 Arkansas.
This week wasn't easy on the Vols. Despite a decisive win in game 1 (10-4 Vols), the Gamecocks fought back in game 2 to even the series and set up a high energy, exciting rubber match on Saturday. Tennessee took the lead early on Saturday, thanks to a 3-run HR by Connor Pavolony. Blade Tidwell was excellent, keeping the Gamecocks quite through 7 innings. The Gamecock bats came alive in the 8th inning, scoring 3 runs to bring them within 1 run heading to the ninth. Senior closer Sean Hunley would be the difference maker for Tennessee in the 9th. With all of the momentum and crowd behind the Gamecocks after the 8th inning surge, and a leadoff double in the 9th, Hunley masterfully struck out the next three batters, stranding the tying run, to close out the win and the series for the Vols.
Next up for the Vols, Hoover. Here's a look at the full bracket: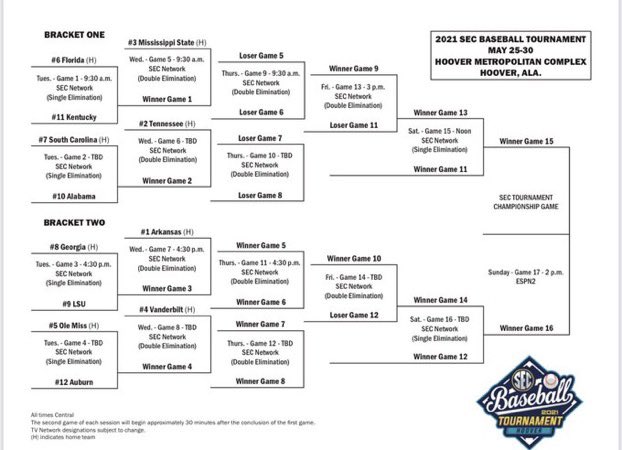 As a #2 seed, Tennessee will get a first round bye and face the winner of South Carolina and Alabama. As we all know, Anything can happen once you get to Hoover. The Vols will have to go through #3 Mississippi State to make it to the weekend and have a chance at the Title game.