Tennessee claimed the series victory over Kentucky on Saturday, winning 2 of 3 at home. The Vols were dominant in their two victories, outscoring the Wildcats 25-6 in the two games. Kentucky did claim a victory in Friday night's matchup winning 8-2, but couldn't quite muster enough offense to keep up with Tennessee in Saturday's rubber match.
Game 1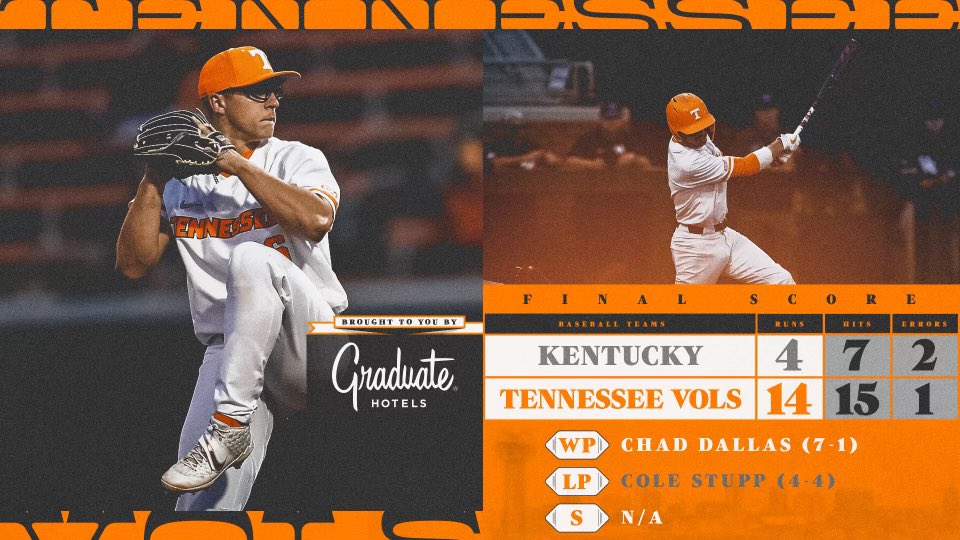 Tennessee took the series opener on Thursday night. Kentucky got off to a fast start, but the Vols offense surged and left no doubt as they went on to win 14-4. Tennessee scored 7 runs in the second inning and 5 runs in the 3rd inning to put this game away early. The Vols offense was highlighted by Pete Derkay (3-for-4, 2 runs), Jordan Beck (2-for-4, 3 runs, HR, 3 RBI), Luc Lipcius (2-for-5, 2 runs, HR, RBI), Jackson Greer (2-for-4, 2 runs, HR, 2 RBI) and Liam Spence (2-for-5, run, 2 RBI) all finishing with multiple hits on the night. Starting Pitcher Chad Dallas tallied another win as he recorded 7 Ks on 6 hits in 6.0 innings.
Game 2: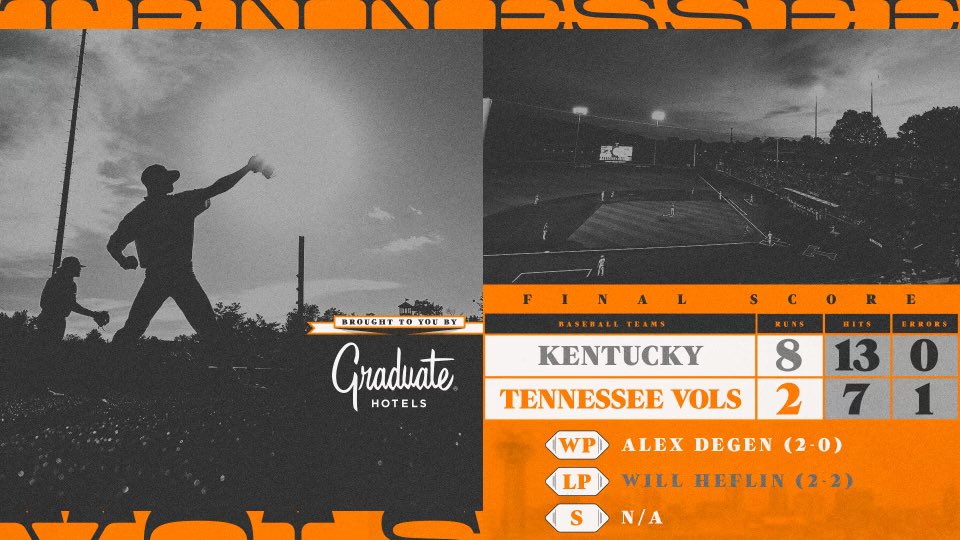 Kentucky owned game 2 with an impressive performance on the mound by Alex Degen. Degen held the Vols to 1 run on 4 innings and had 4 Ks. Also impressive, was reliever Sean Harney. Harney finished the game in 5 innings pitched and only allowed 1 run on 4 hits and 5 Ks. The Wildcats offense backed up their impressive defense, scoring 8 runs on 13 hits. The Wildcats scratched out a much needed win to keep the series alive, winning 8-2.
Game 3: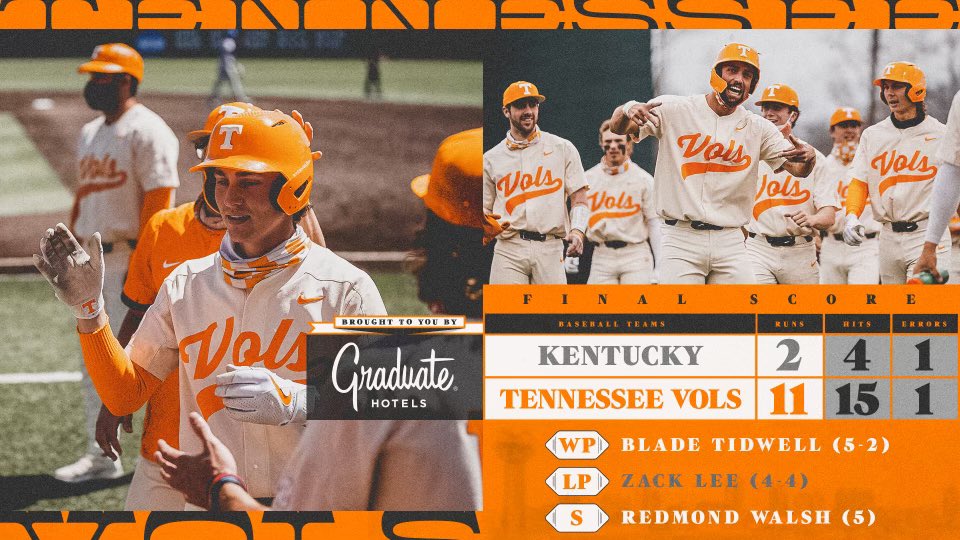 On Saturday, Tennessee closed the series out with a bang, literally. Blade Tidwell and Redmond Walsh teamed up to hold the Wildcat offense to only 2 runs on 4 hits. Meanwhile, the Volunteer offense exploded for 11 runs on 15 hits. The surge was highlighted by a Jake Rucker Grand Slam in the 6th, as well as solid production from Luc Lipcius (1-for-4, R, HR, RBI), Jordan Beck (4-for-5, R, 2B, RBI), Liam Spence (3-for-4, 2 R) and Max Ferguson (2-for-4, 2 R, 2B, RBI).
Tennessee pockets another series victory as the Volunteers head into week 13. Tennessee will get some rest as they do not have a midweek game this week. The Vols will travel to CoMo for a weekend series against the Missouri Tigers.
Gametime:
Friday 7:30PM (SECN+)
Saturday 4PM (SECN)
Sunday 2PM (SECN+)