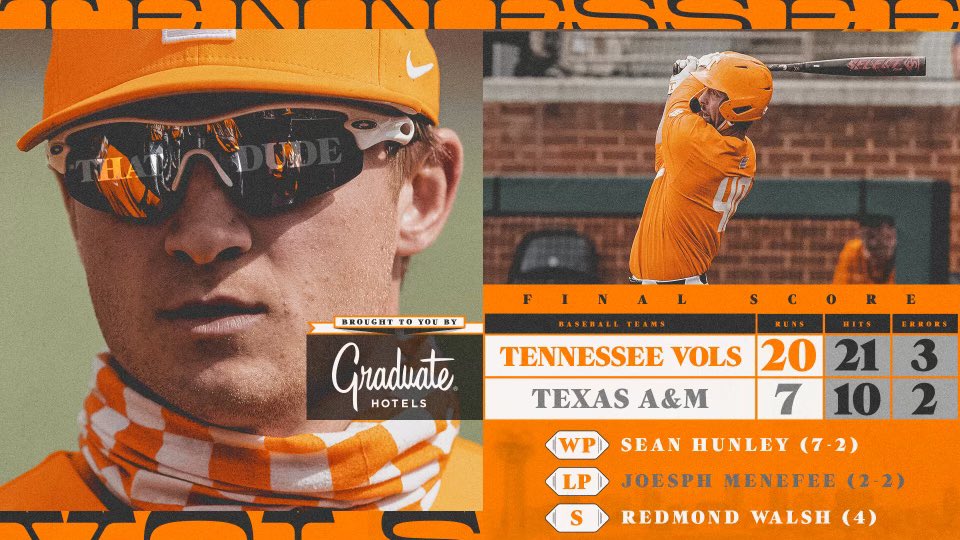 The #6 Tennessee Volunteers clinched the series at Texas A&M in Sunday's rubber game, putting the Vols at 32-9 (12-6) on the year. Final score 20-7.
Tennessee scored 20 runs off of 21 hits, including 6 Home Runs on the day from Evan Russell (2), Pete Derkay (1), Luc Lipcius (1), Max Ferguson (1), and Connor Pavolony (1). The Vols offensive production came from all 9 spots in the lineup, recording a hit from each player. Notable performances by Drew Gilbert (4-6 with 3 RBIs), Jake Rucker (3-5 with 2 RBIs), Evan Russell (2-5 with 2 HR and 6 RBIs), and Luc Lipcius (2-6 with 1 HR and 2 RBIs), highlighted Tennessee's explosive offensive day.
Blade Tidwell, who started on the bump for Tennessee, was pitching well through 4 innings giving up a solo HR in the 1st inning. The Aggie bats came alive to take back the lead in the 5th, scoring 5 runs on 4 hits thanks to back-to-back walks and 3 errors by the Vols. Tidwell would be replace by Sean Hunley, who only allowed 1 run until relieved by Redmond Walsh, who closed out the game for Tennessee. The Vols' late comeback in the 7th inning would be the story of this game, scoring 15 of their 20 run in the 7th (5 runs), 8th (2 runs), and 9th innings (8 runs).
Tennessee's 20 runs, marks Tennessee's highest scoring SEC game since 2010.
Tennessee travels home to host Lipscomb University on Tuesday before welcoming the Kentucky Wildcats into town for the weekend. The Wildcats are coming off a big series victory at Alabama, setting the scene for what should be an exciting weekend series on Rocky Top!