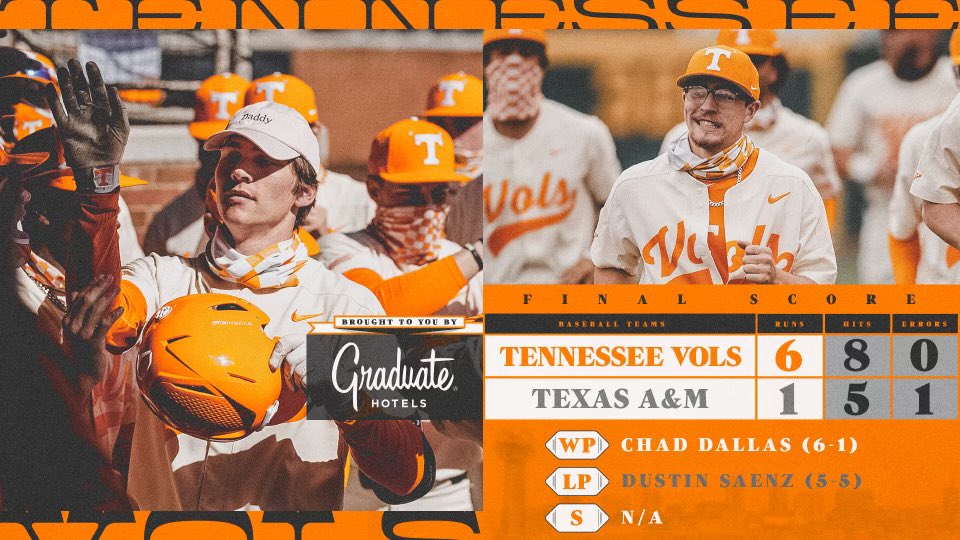 Game 1:
Bad weather on Friday forced Game 1 of the series to be rescheduled to a Saturday double-header.
Tennessee jumped off to a fast start, scoring 5 runs in the first 3 innings keeping the Aggies scoreless until allowing a single run on the board in the 5th inning.
Chad Dallas dominated in the 7 innings he pitched. Allowing only 1 ER on 5 hits, and 5 strikeouts. The Texas native, notched the win to go to 6-1 on the year.
3B Jake Rucker, DH Evan Russell, and C Conor Pavolony, carried the team offensively accounting for 5 of the Vols 6 runs. Rucker was a red-hot 3-4 at the plate with a solo HR and 2 doubles. Evan Russell, who has been Tennessee's most electric hitter in recent weeks, was 2-3 with two singles and and RBI. Pavolony, who missed the last 2 games due to injury, was 1-4 with a solo HR and scoring 2 runs.
Sean Hunley came in relief to Chad Dallas in the 8th inning, and shut the Aggies down to seal the win for the Vols! UT 6 TAMU 1
___________________________________________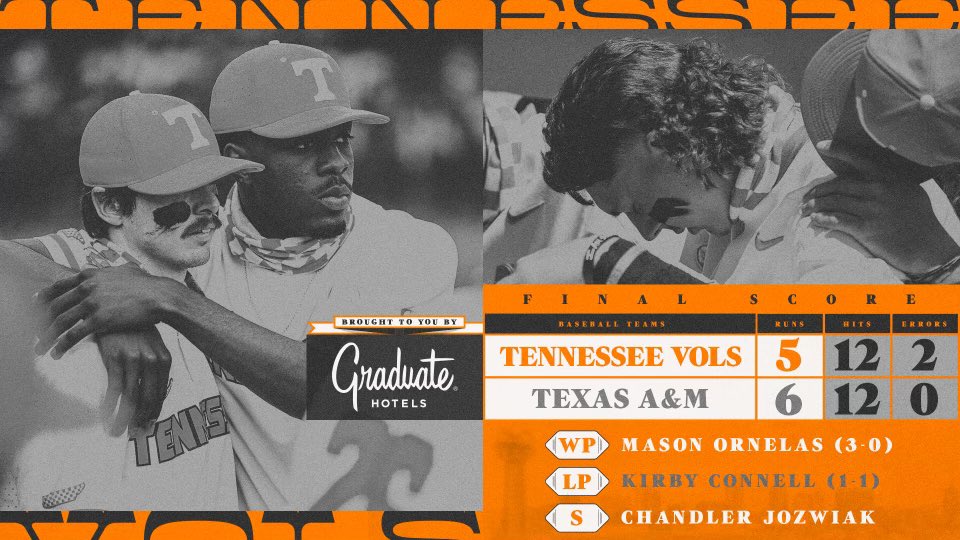 Game 2:
Tennessee dropped game 2 of the Saturday double-header to Texas A&M. UT 5 TAMU 6
The Vols again jumped out to an early lead scoring 4 runs in the first 4 innings, holding the Aggies scoreless until the 4th inning allowing a 2 run HR by Will Frizzell.
Will Helfin was solid through 3 innings of work, before allowing the 2 run HR in the 4th. Heflin lasted 4 2/3 innings and allowed 2 ER on 5 hits, with 1 strikeout. Mark McLaughlin came in relief to Heflin in the 4th, keeping the Aggies scoreless until being relieved in the 6th inning by Kirby Connell. Kirby struggled in the 7th giving up 4 runs that ultimately lost the game for Tennessee. Camden Sewell closed it out for the Vols in the 8th, escaping a jam.
Tennessee's 5 runs came off the bats of Drew Gilbert (2 RBIs), Jordan Beck (solo HR), Evan Russell (1 RBI), and Luc Lipcius (1 RBI).
The Aggies stormed back to take the lead in the 7th inning tacking on 4 runs with help from 2 errors by the Vols.
The Vols tried to rally in the 8th with back-to-back hits by Jordan Beck and Liam Spence, but a double played ended the rally. After escaping a jam in the bottom half of the 8th, Tennessee again began to rally with a leadoff hit from Jake Rucker. Unfortunately for the Vols, Rucker couldn't find help to drive him in.
Texas A&M takes game 2, setting up the rubber Sunday rubber match. Tune in to the SEC Network at 1 p.m. ET.