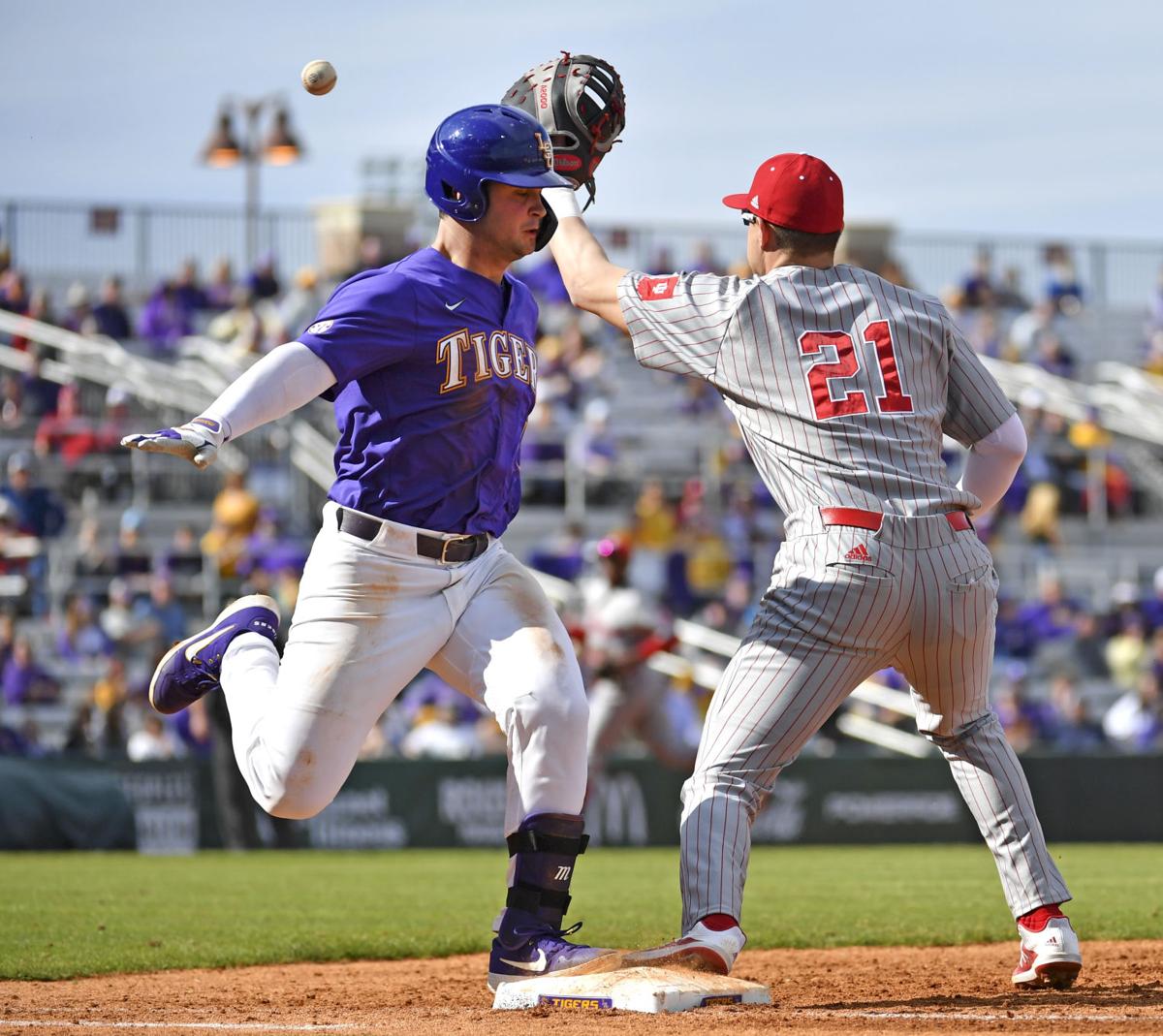 Baton Rouge, LA – The Fighting Tigers of LSU welcomed the Hoosiers of Indiana for a three game weekend series at Alex Box Stadium Skip Bertman Field for opening weekend.
LSU and Indiana got their 2020 seasons started under Friday night lights at 7:07pm CST on Valentines night. LSU picked up the victory Friday, their 19th consecutive season opening win, behind a strong performance from starting pitcher Coke Henry (1-0). Henry pitched 4 innings, striking out 8 batters while surrendering only 3 hits and 0 runs. Before the game started Coach Mainieri had Henry on a 70 pitch restriction to keep him fresh for the season. Veteran reliever Matthew Beck looked excellent as well in his 2020 debut. Beck pitched 2 scoreless innings in relief.
Home runs from Cade Doughty (1) and Saul Garza (1) helped put LSU on the board. JuCo transfer Zac Mathis didn't disappoint in his first game as a Tiger, he drove in 2 runners and LSU took the game 8-1.
LSU and Indiana ended up playing a doubleheader on Saturday due to forecasted rain in the Baton Rouge area on Sunday. The first game of the doubleheader featured Landon Marceaux on the mound for the Tigers. Marceaux pitched 4.1 innings while striking out 2 and allowing 3 runs on 6 hits.
LSU relievers: Trent Vietmeier (1-0), Nick Storz, and Devin Fontenot pitched a fantastic 4.2 innings combined allowing only 1 run.
It was a close game with the Tigers leading 5-4 going into the bottom of the 8th until LSU's Alex Milazzo hit a 2 run double to give the Tigers some insurance runs and Devin Fontenot finished off the Hoosiers in the 9th as LSU took the series from the defending Big 10 Champions with a 7-4 victory.
"You've got to win the close ones if you want to have a great season."

LSU head coach Paul Maineri. Courtesy lsusports.net
The second half of the double header started 60 minutes after the conclusion of the previous game. LSU featured starting pitcher A. J. Labas and Indiana countered with Bradon Tucker. Labas pitched 4.1 innings and recorded 4 strike outs and gave up 3 runs. Tucker pitched brilliantly for the Hoosiers. He held LSU to just 1 run on 4 hits in 6.0 innings of work. The Tiger bats couldn't get it going in the bottom half of the doubleheader and the Hoosiers salvaged the series with a 7-2 win.
One of the bright spots for LSU in the loss was pitcher Jaden Hill who pitched 2 innings of scoreless and hitless baseball. Hill reached 98mph a few times and was consistently sitting at 96-97mph and recorded 3 strike outs. Hill missed most of 2019 afternoon an injury in the second week of the season picked up right where he left off. If he can continue to pitch like that LSU will have a strong assembly of pitchers both starting and in relief.
The Tigers looked good against a very talented Indiana squad. Interesting Indiana note, catcher Drew Ashley played his first game ever at that position in any level of baseball and did not allow a pass ball or wild pitch and only one stolen base. New comer Zach Mathis performed well at the plate and in the field, making some nice play at the hot corner. LSU pitching look good as well against a team that put up huge offensive numbers last season. LSU finds itself at 2-1 after opening weekend.
The Tigers return to action Tuesday afternoon at 5:00pm CST against crosstown rival Southern University.